Occasionally I run (or inherit as the case may be) into some old or antique or vintage stuff .
If you collect things you have to focus on a particular subject otherwise you become a hoarder. So i need to shed some old stuff in order to avoid that.
I am in the process of developing this page.
Old Dutch copperplate print (sixties)
A nice old print (sixties or thereabouts) showing the Ridderzaal, part of the medieval governent buildings in The Hague , Holland.
I removed the frame which was extremely ugly even to sixties standards.
Size:
Artist:
Price: 75 euros, excl. shipping
African statue, ebony
A small statue representing a female carrying a hardshell calabash supposedly with water ? Brought from South Africa around 1944. Height about 20cm
Price : 15 euros (excl. shipping)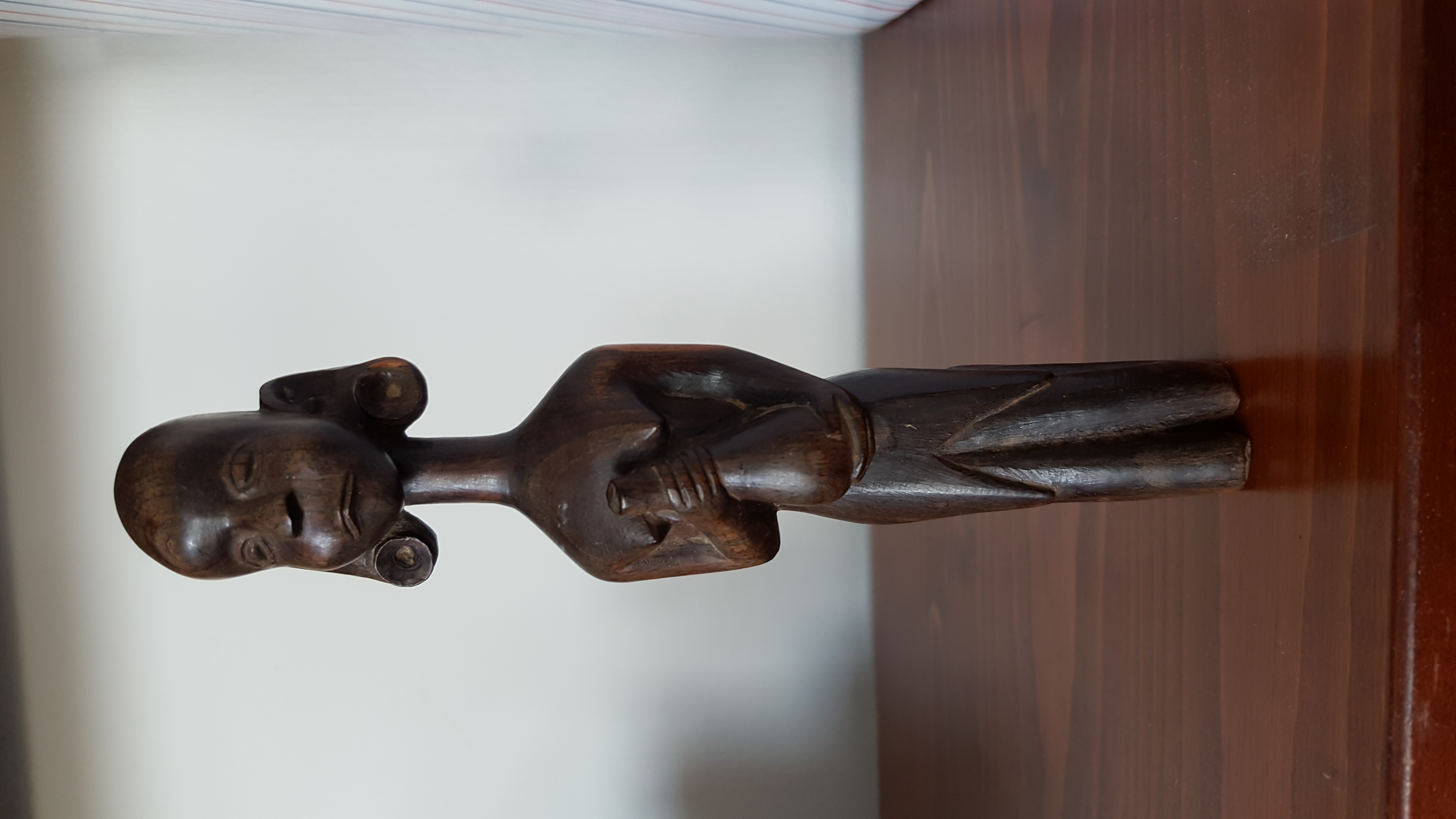 A stack of 12 78rpm shellac records, 1936 to 1950ish
Bing Crosby - Silent night, Adeste Fideles
Dutch history: Pinkeltje -Pinkeltje en de speelgoed auto, deel 1 en 2 (hoorspel) Heleentje en de Karekieten- Naar de speeltuin, Luilekkerland
Frank Weir orchestra- The happy wanderer, From your lips
The Four Aces- You fooled me, La Rosita
Dansorkest- Stevedore stomp, Jazz cocktail
Al Debbo- My dolla is'n loskop, Hasie (deze dateert van voor 1943 en is een bekende in het toenmalige Zuid Afrika, daar komt deze plaat ook vandaan).
Enrico Caruso op His Masters Voice - Rigoletto. Een heel beroemde tenor. Rond 1936 of ouder, ik kan dat niet meer goed nagaan maar waarschijnlijk niet lang na 1926. Het label is gedeeltelijk verdwenen. Byzonder is dat deze plaat slechts aan 1 kant muziek heeft (zie fotos). Op een plaats is een hoekje uit de plaat in de deadwax, gelukkig niet tot aan de muziek sporen.
Les Paul - de man van de Gibson Les Paul en multi track opnamen pionier. Dit is een stukje historie. Op deze twee opnamen zijn de multitrack experimenten duidelijk te horen - hij doet alles in zn eentje en dat zonder de apparatuur die we nu hebben! Vaya con dios Johnny (is the boy for me) zang Mary Ford
Doris Day- twee stuks: A. With a song in my heart Too marvellous for words B. Again Everywhere you go
Paul Anka- Diana en Dont Gamble with Love
The buyer furthermore receives 11 additional shellac records that i could not really research; some with a german background.
.Price: whatever, check shipping costs.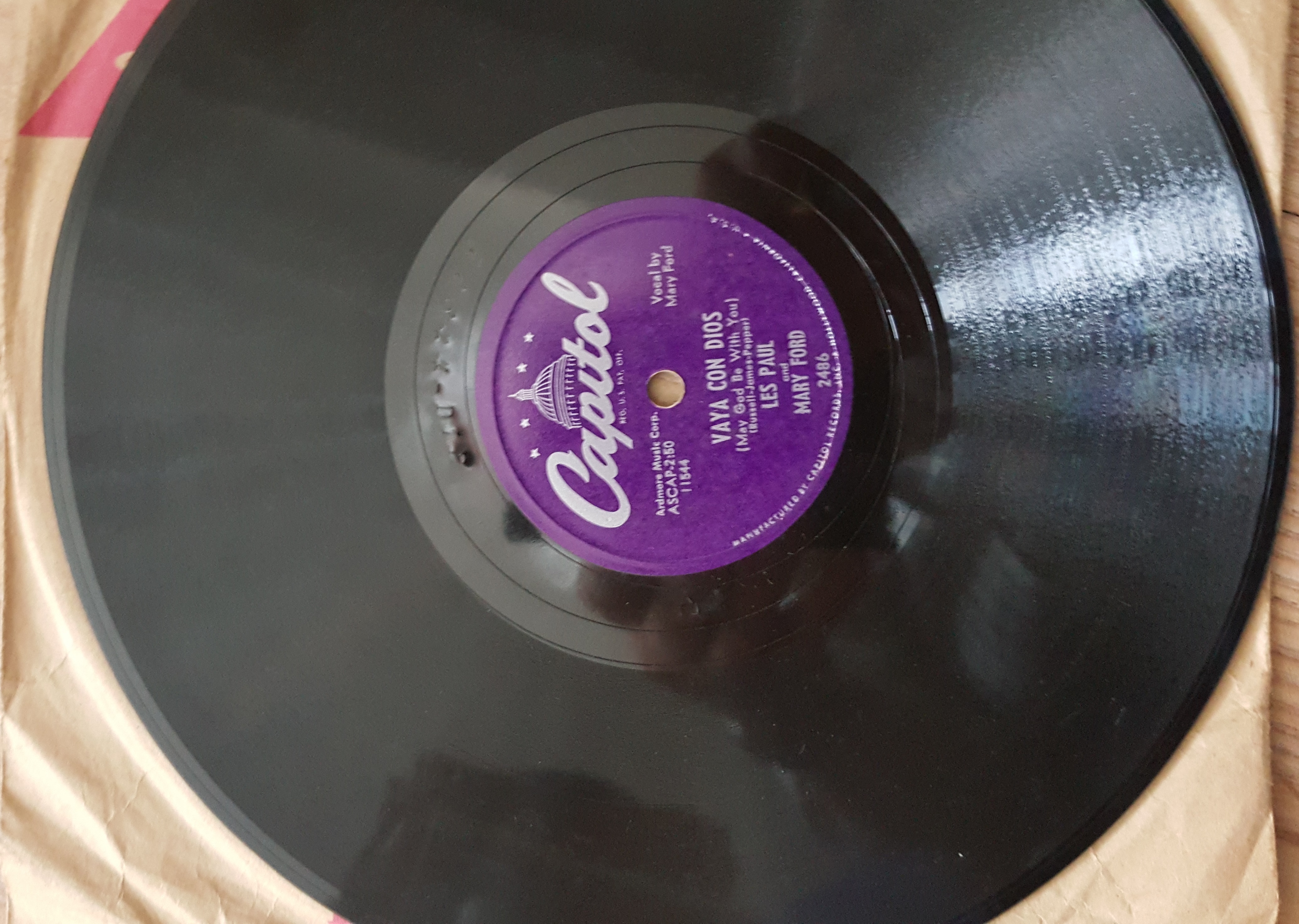 Shell oil history - 1969 ballpoint pens
Here two ballpoints dating around 1969, just around the transition from te Bataafse Petroleum Mij to Shell
Price : 10 euros for the two (excl. shipping)
Antique captain's navigational ruler
A nautical ruler used by the captain of clipper "De Nachtegaal" somewhere between 1890 and 1905. Actually that was my grandfather..
Price : 150 Euros
Use the following form to send me an email, ask a question or order :
You are visitor: